WORK SCHEDULE
MONDAY - FRIDAY
10:00 h - 13:00h
17:00 h - 20:00h
LOCATION
Travessera de Gràcia 341 ENT. 2ª.

08025 - Barcelona
Metros:
L2 y L5 - Sagrada Familia

L4 - Joanic



SERVICES AND PRODUCTS
>
SOFTWARE
>
ANDROID
PRINTER PLUS - SOFTWARE ANDROID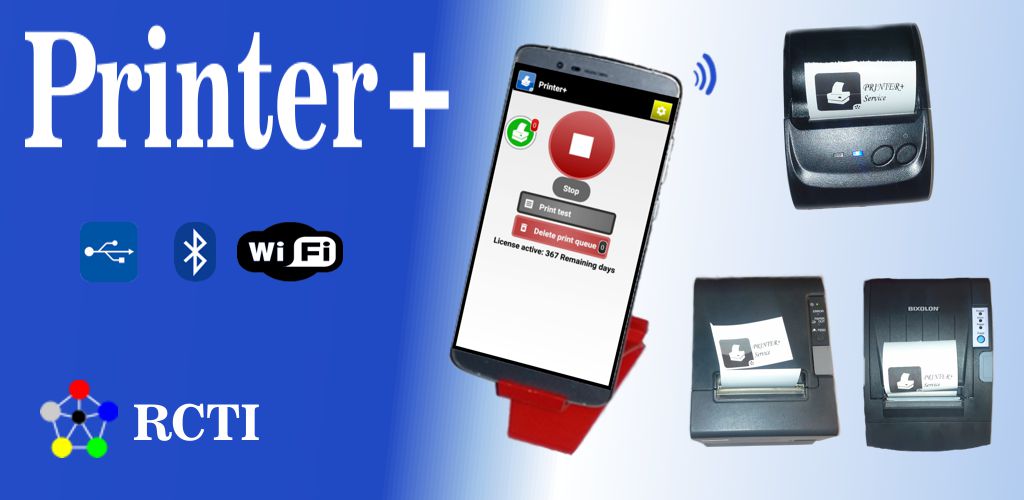 DOWNLOAD FROM


Control your receipt printer on Android
Printer+ is an App-Service that allows the communication of an Android device with different brands and models of receipt Printers, in a few and simple steps.
Requirements
► Android 4.1 or higher
► Bluetooth
► No ROOT required
► No internet required
Features of Printer+
► Communication with printers (USB, Bluetooth, LAN).
► Print pictures.
► Print text (Unicode, can be modified or added (size, bold, underlined)).
► Print Barcodes and QR.
► Select alignment on the paper (Left, Centered, Right).
Supported brands
► EPSON (LAN, Bluetooth, USB)
► BIXOLON (LAN, Bluetooth, USB)
► ZJIANG - ZJ (Bluetooth)
► HOIN
► SUNMI V1
► ZEBRA MZ220
DEMO mode or not licensed
► By default when installing the App
► On every print will be written "www.rcti.es Printer+ DEMO" at start and the end.

In the application you can buy a license with duration from 1 year to 10 years.